Scroll Down
What is
SGMCHAIN?
SGMCHAIN is an open-source public blockchain platform developed to help businesses, enterprises,
and startups to move to blockchain.
It is built on a 3G+ consensus algorithm called DDPoS (Dual Delegated Proof of Stake)
that solves the scalability, security, and usability issues of existing solutions.
SASTA provides SGMCHAIN Mainnet Core Engine APIs, live streaming, smart wallet, communication network, P2P cloud and other useful modules.
By offering various developers and users' friendly solutions, thanks to its SASTA protocol,
SGMCHAIN aims to bring blockchain to everyday life.
Token standard Protocol
SASTA
SASTA (SGMCHAIN Alliance Standard Token Agreement) can be said to be a protocol that DApps using the SGMCHAIN blockchain must follow when applying to tokens according to smart contracts.
Using the SASTA token protocol, SGMCHAIN blockchain users can build a safe and secure digital infrastructure.
It consists of more than 130 customized application programming interfaces (APIs) to develop DApps by reducing development costs and time. Equipped with DID (Decentralized Identifiers) and DAPI (Decentralized Application Program Interface) functions, it can transfer all data such as personal information while protecting them completely.
SGM Token
SGM is original basic cryptocurrency of SGMCHAIN blockchain.
Tokens that are issued by SGMCHAIN network based on SGM are called SGM Tokens.
SGM related Tokens(SGMCHAIN Alliance Standard Token Agreement) based on SGMCHAIN's Mainnet contribute to popularized, due to its fast and easy way to issuance of token by using smart contracts.
NFT Protocol
NSTA-602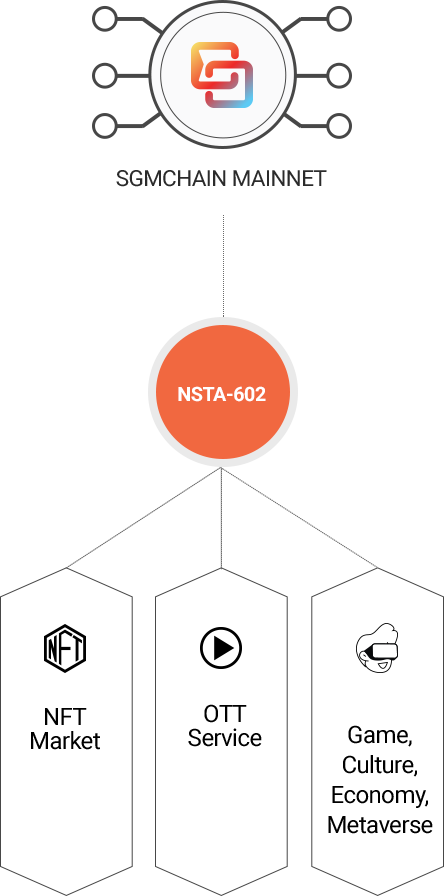 NSTA-602 is a token that introduces the concept of NFT, which is non-fungible in the SGMCHAIN network. It can make digital or real assets into NFTs on the SGMCHAIN Mainnet of 300,000 TPS.
Also, even with a large amount of NFT transaction size, it can be processed without network burden and can be traded with low fees.
NSTA-602 makes it possible to establish and trade various assets on the market place such as transactions of content, license ownership or transaction of digital assets including in-game items and game money, and transactions of ownership of tangible and intangible assets including real estate and paintings. Users can apply this to the Metaverse ecosystem and develop a Metaverse NFT exchange business for transactions arising from users' ecosystem activities.
Core features of
SGMCHAIN
Security

SGMCHAIN's DDPoS algorithm resolves the security risks of DPoS (3rd generation blockchain technology).

DDPoS (Dual Delegated Proof of Stake) uses a total of 21 delegated nodes, where 17 Master nodes are fixed and the remaining 4 nodes are randomly selected.

Because of these arbitrarily chosen nodes, the risk of collusion between master nodes decreases.

Scalability

Robustness and scalability is achieved by having a 300,000 TPS
mainnet speed certified by KOLAS
(Korean research lab with 72 country accordance)
Developer Friendliness

SGMCHAIN provides a list of 130+ APIs to empower
developers to easily create new DApps without
knowing a new programming language.

Moreover, the world's first Windows-based BP/BO setup.

User-Friendliness

Existing solutions are complex and users have to deal with various wallets & multiple private keys for each DApp.

SGMCHAIN mitigates these hurdles through Single Sign On feature of SASTA protocol where one.

ID/Password is used for all the DApps on SGMCHAIN blockchain, making the blockchain mass-adoption dream come to reality.
Cost-effectiveness

Existing solutions are very costly for both users and DApp developers. (e.g DApp developers have to stake a huge amount of EOS tokens to deploy their DApp. On the other hand, Ethereum charges on avg.
$0.112 USD from users as a transaction fee).

In case of SGMCHAIN, the transactions fees are
extremely low transaction and developers don't have to stake SGM Tokens.

App to DApp

SGMCHAIN has expertise in developing DApps for
businesses that could include customized features
including blockchain-based transactions,
token rewards for user community, crypto wallet etc.